Celebrating 87 Years of Youth Music! 
Eugene-Springfield Youth Orchestras depends on the generosity of the community to help support our programs! Program fees only pay a portion of what we offer to our area's young musicians — a unique music education program and experience! There are several ways to support ESYO, a 501(c)3 organization. All gifts are tax deductible to the full extent allowable by law.
Help spread the Joy of Youth Music

through your year-end gift

!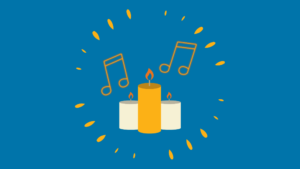 This holiday season, we are grateful for you, our supporters; grateful for our conductors, teachers, and staff; grateful for our board of directors, and grateful for our youth musicians and their families!

There are many ways you can share your gratitude and help spread the joy of youth music:
$750 – $1,000

–

Sponsor a portion of their first virtual concert, produced by professionals

$500

–

Support a music coach for one month – choose your favorite instrument!

$300-$400

–

Give a scholarship to a deserving young musician in our orchestras

$150

–

Buys a case of ten

music stands

to provide

for students who need one.

$100

–

Help one or more beginners by gifting their "String Academy Package!" Instrument rental and music book

$75

–

Sponsor a "virtual musical chair!" Choose a student or your favorite instrument

Any amount helps a lot

!
You can also share their joy with the 
special virtual Winter Concerts they are preparing for you! 
Tune into 
ESYO's 
YouTube Channel
 on December 15th and 16th @ 7 p.m.
 to watch this "musical patchwork quilt" with your friends and family, even while apart!

Donate securely and anonymously the following ways:
Through

our

Donorbox

page here

 

(links to our PayPal account)

Mail a check to: ESYO, PO Box 5666, Eugene, OR 97405
Call our office to donate over the phone: 541.484.0473
Please call 541.484.0473 or email clarissa@esyorchestras.org if you have any questions! 
On behalf of our young musicians and their families,
Thank You and Happy Holidays! 
---

2020-21 Bright Musical Horizons:
Endowment Giving for the Future of Youth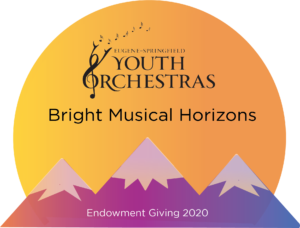 Through another generous matching gift challenge, our goal is to substantially increase our endowment and build a solid foundation for decades to come. Despite the adversity we have all endured this year, for this season's endowment giving opportunity, we want to ensure ESYO can continue supporting bright musical futures for our youth musicians.
We invite you to be part of this incredible opportunity for our young musicians, and for the future of youth music enriching our community. Any donation to the endowment goes twice as far with the dollar-for-dollar matching challenge from our founder's grandson – up to $15,000!
All endowment donors will also be honored as a "Sostenuto Circle" donor to reflect the sustaining longevity of your gift. 
Head to our Donorbox page to watch our video, featuring fantastic ESYO alumni and current youth musicians!
You can donate securely and anonymously the following ways:
Through our Endowment Giving page: donorbox.org/esyo-bright-musical-horizons
By mailing a check to: ESYO, PO Box 5666, Eugene, OR 97405
Call our office to donate over the phone: 541.484.0473
When donating from Donorbox, please consider adding the cost of processing fees so that 100% of your gift goes to ESYO.
Your gift today supports our youth tomorrow – and a legacy of music for our community!
Please call the 541.484.0473 or email clarissa@esyorchestras.org if you have any questions!
Thank you!
LEGACY GIVING

ESYO ENDOWMENT FUND: Create a lasting legacy with a gift to the ESYO Endowment Fund. Your tax deductible contribution will be invested with the Oregon Community Foundation, one of the nation's largest community trusts. By contributing to the ESYO Endowment Fund, you can help guarantee that all children in our community, regardless of economic status, have access to musical opportunities that will not only give them a creative outlet, but also teach them discipline, teamwork and problem solving skills that they can carry with them throughout their lives. Contact ESYO at 541-484-0473 or email development@esyorchestras.org to discuss your gift. We look forward to hearing from you! 
PLANNED GIVING (bequests, gift annuities, IRA contributions, stocks, real estate): ESYO offers several planned giving opportunities which allow donors to make larger contributions than are often possible through outright gifts. By making a planned gift to ESYO, a donor can make a commitment for the future and receive cost-saving advantages, including tax benefits. Strategic selection of the most appropriate gift vehicle can lead to a far more significant contribution to ESYO than ever envisioned. Bequests can be made in an exact dollar amount, as a percentage of the estate or by gifting the remainder of the estate once all other bequests have been fulfilled. Contact ESYO at 541-484-0473 or email development@esyorchestras.org to discuss your gift.
PROGRAM SUPPORT
GENERAL DONATIONS: There are several levels of giving. Donors receive recognition in each concert program. Donors may choose to give a restricted donation instead, designating the donation to a specific area of ESYO (i.e.: Scholarships, String Academy, Coaching, etc.). Make a donation today!
BECOME A DAL SEGNO DONOR: Monthly contributions are a convenient and easy way to provide a reliable source of support for ESYO. Each month, we will automatically charge your card for your desired donation amount. You may opt out of monthly gifts at any time.
CORPORATE PARTNERSHIP: By becoming a corporate sponsor, you will be branding your business along side a widely respected and recognized ESYO. There are many levels of sponsorships available depending on the size and needs of your company.Your support serves a crucial need because it provides many children, especially those from low-income families, with their first opportunities to make music. Partner with Us

ADVERTISING: Advertise your business in an ESYO concert program! Information on size and price available upon request. Advertise with ESYO!

MUSICAL CHAIR SPONSORSHIP ($75 per sponsorship, per year): Sponsors receive a listing in concert programs under their musician's name and in the donors section, and a ticket to any ESYO concert!  Sponsor a musician(s) or favorite instrument today!
 OTHER OPPORTUNITIES