Celebrating 85 Years of Youth Music! 
Eugene-Springfield Youth Orchestras depends on the generosity of the community to help support our stellar programs! Program fees only pay a portion of what we offer to our area's young musicians, and it is a unique music education program and experience! There are several ways to support ESYO, a 501(c)3 organization and all gifts are tax deductible to the full extent allowable by law.
GENERAL DONATIONS: There are several levels of giving. Donors receive recognition in each concert program. Donors may choose to give a restricted donation instead, designating the donation to a specific area of ESYO (i.e.: Scholarships, String Academy, Coaching, etc.).
Make a donation today!


Concert Season $5000
Orchestra $2500
Conductor $1,500
Soloist $1,000-$1,499
Concertmaster $500-$999
Section Leader $100-$499
Musician $1-$99
BECOME A MONTHLY DONOR: Monthly contributions are a convenient and easy way to provide a reliable source of support for ESYO. Each month, we will automatically charge your card for your desired donation amount. You may opt out of monthly gifts at any time.
CORPORATE PARTNERSHIP: By becoming a corporate sponsor, you will be branding your business along side a widely respected and recognized ESYO. There are many levels of sponsorships available depending on the size and needs of your company.Your support serves a crucial need because it provides many children, especially those from low-income families, with their first opportunities to make music.
Partner with Us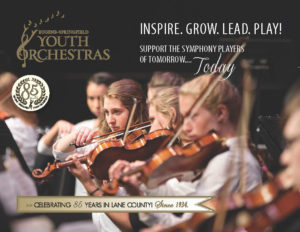 ADVERTISING: Advertise your business in an ESYO concert program! Information on size and price available upon request. Advertise with ESYO!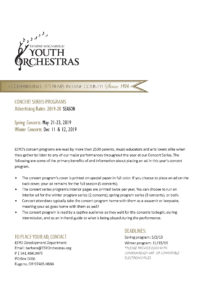 MUSICAL CHAIR SPONSORSHIP ($75 per sponsorship, per year): Sponsors receive a listing in concert programs under their musician's name and in the donors section, and a ticket to any ESYO concert!  Sponsor a musician(s) or favorite instrument today!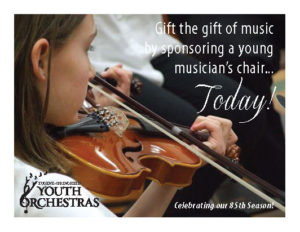 OREGON CULTURAL TRUST: Make matching gifts, get a tax credit! Take advantage of the tax credit that you can receive by making a gift to both ESYO & The Oregon Cultural Trust! If you make a gift to ESYO, then make a matching gift to the Trust by Dec. 31, you'll get it back as a credit when you file your Oregon taxes! Let's celebrate Oregon culture together! Visit their website at www.culturaltrust.org or call 503-986-0088.
LEGACY SOCIETY

ESYO ENDOWMENT FUND: Create a lasting legacy with a gift to the ESYO Endowment Fund. Your tax deductible contribution will be invested with the Oregon Community Foundation, one of the nation's largest community trusts. When funds are invested, the principal remains intact for generations to come. Earned interest is returned to ESYO, which we use to offset annual operating expenses. By contributing to the ESYO Endowment Fund, you can help guarantee that all children in our community, regardless of economic status, have access to musical opportunities that will not only give them a creative outlet, but also teach them discipline, teamwork and problem solving skills that they can carry with them throughout their lives. Contact ESYO at 484-0473 today, or email barbara@ESYOrchestras.org to discuss your ideal giving option.
PLANNED GIVING: Both you and your family can benefit from making a gift to ESYO through planned giving. While the process is fairly simple, the long term impact is profound. ESYO offers several planned giving opportunities which allow donors to make larger contributions than are often possible through outright gifts. By making a planned gift to ESYO, a donor can make a commitment for the future and often receive cost-saving advantages, including tax benefits, today. All planned gifts support the ESYO Endowment Fund. Strategic selection of the most appropriate gift vehicle can lead to a far more significant contribution to ESYO than ever envisioned. Options include gifts made through appreciated stock, real estate, bequests, qualified retirement assets, life insurance policies, charitable remainder trusts, charitable gift annuities, retained life estates, memorial funds and named endowments. Bequests can be made in an exact dollar amount, as a percentage of the estate or by gifting the remainder of the estate once all other bequests have been fulfilled.
Please contact ESYO at (541) 484-0473 to discuss the details of the ideal gift structure to accomplish your individual goals and achieve the most optimal benefit for you and your family.
OTHER OPPORTUNITIES
eSCRIP: This program make supporting ESYO easy without costing an extra cent! Please visit www.escrip.com to register. Then choose Eugene-Springfield Youth Orchestras as the organization you'd like to support! Participating business partners will contribute a percentage of the purchases you make with the grocery loyalty cards, credit and debit cards you choose to ESYO. It's that simple!

AmazonSMILE: Do you shop online at Amazon.com? Sign up for AmazonSmile today and designate ESYO ! It couldn't be more simple! You shop. Amazon gives!
Start Shopping!
Are you a Fred Meyer customer? Where Shopping & Giving Unite!
Support ESYO just by shopping at Fred Meyer. Just link your Rewards Card to ESYO by following the link below. Don't have a Rewards Card? You can sign up for one at the Customer Service Desk of any Fred Meyer store. Link your Rewards Card Now! You'll need an online Fred Meyer account to do this – sign up now!