CONGRATULATIONS to the Youth Symphony for their fine concert in December, 2018. With music ranging from the rousing Ruslan & Ludmila to an American in Paris, a beautiful violin solo to an incredible performance from Borodin's 2nd Symphony, the orchestra kept the audience enthralled and showed the amazing abilities of the musicians. Thank you all!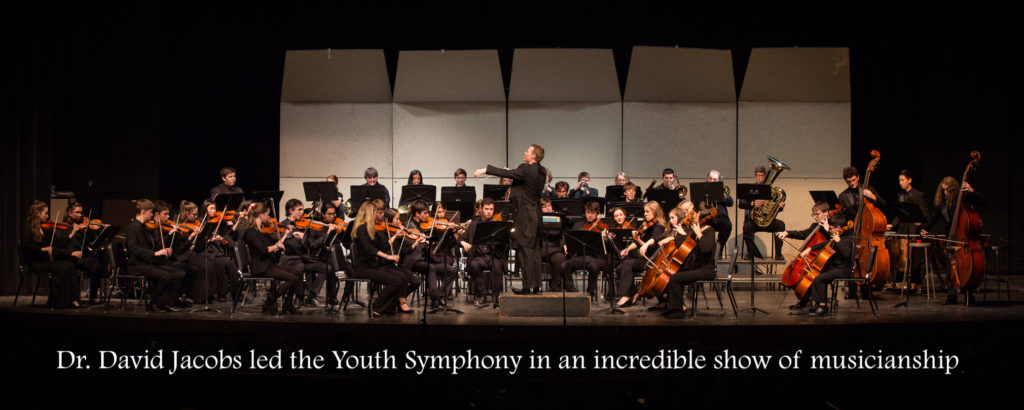 This is the second oldest youth symphony west of the Mississippi! The Youth Symphony (YS) began as the Junior Symphony in 1934. YS presents some of the greater Eugene/Springfield area's finest student musicians in exciting concerts featuring outstanding soloists and demanding orchestral music.
We proudly welcomed Dr. David Jacobs as conductor of the Youth Symphony  in the spring of 2016. He brings a tremendous background of professionalism and musicianship to the orchestra. Dr. Jacobs also serves as Director of Orchestral Studies at the University of Oregon. We are thrilled that he is part of the ESYO family! For more about Dr. Jacobs, click here.
Youth Symphony concerts feature a variety of exciting repertoire and feature student soloists. Auditions are held annually in the spring. The program fee for YS is $445 for the year, and there are several payment options, as well as scholarships available (described on registration). The YS season includes 30 rehearsals, sectional coaching, visiting artists and conductors, special workshops, side-by-side performances with professional orchestras, several education and outreach opportunities, and two formal concerts in December and in May. YS rehearsals are held Monday evenings in the South Eugene High band room from 6:45-9pm (including federal holidays), beginning SEPT 24, 2018.  Be sure to subscribe to the google calendar below and check regularly for rehearsal and concert updates.  
Reporting Absences to Your Registrar: Lisa Morgan is the YS registrar. She has worked as registrar for ESYO for many years, and has two children in YS. She is experienced and wonderful with students – she is the go-to person for anything they need and is always available to talk to. Lisa's number is 541-968-3435. This is the number to call when your child will be late or absent, or for any other issues regarding rehearsals. You can leave a message and explain what's going on. Students are expected to be there 10-15 minutes early so they are seated and ready to tune at 6:45 sharp. One week notice is required for absences! There is no longer an absence request form. You must call your registrar. THANK YOU!