AUDITIONS are available on an individual basis. Please call 541-484-0473 if you are interested. 
NEW REHEARSAL PLACE AND TIME: Starting September 23rd, Little Symphony will meet on Mondays from 4:30-6:00 pm in the South Eugene High band room. Little Symphony (LS) is an auditioned string ensemble consisting of violin, viola, cello, or string bass players with at least three years of instruction. The program fee is $400 for the year, which includes 28-30 rehearsals, sectional coaching, two outreach concerts, and two formal concerts. If you are placed in LS after your audition, you may REGISTER for LITTLE SYMPHONY HERE!
Absences or Tardies: Please report all tardies and absences to the LS Registrar: Tricia Bevans, lsregistrar@esyorchestras.org or 541-515-0779. Students are expected to be at rehearsal 10-15 minutes early so they are seated and ready to tune at 4:30 sharp!
NEW LS CONDUCTOR! We are thrilled to welcome Dale Bradley as the new conductor of the Little Symphony. Dale has taught for ESYO for the last decade, serving as String Academy teacher in many different schools, and String Academy 2 conductor. He is a cellist in the Eugene Symphony and Oregon Mozart Players, and teaches privately. He is known for his wonderful rapport with young people, and his musicianship as a composer and arranger as well as a performer. We are very glad to have him! Read more about Dale HERE.
MUSICAL CHAIR SPONSORSHIP: If you'd like to sponsor your musician (or know someone who would!) please click HERE! The sponsor's name will appear under the student's name in the program, just like the professionals. It's a great way for family members and friends to show their support!
We
said goodbye to longtime LS conductor Karen Doerfert this year, who led the group for seven years and made a huge impact on so many ESYO students. She still directs the Roosevelt MS music program, and continues to serve the young musicians of our community. We can't thank her enough for all she has done and continues to do in support of ESYO!
CONGRATULATIONS LITTLE SYMPHONY on your final concerts of the 85th Season!
Your performances were wonderful!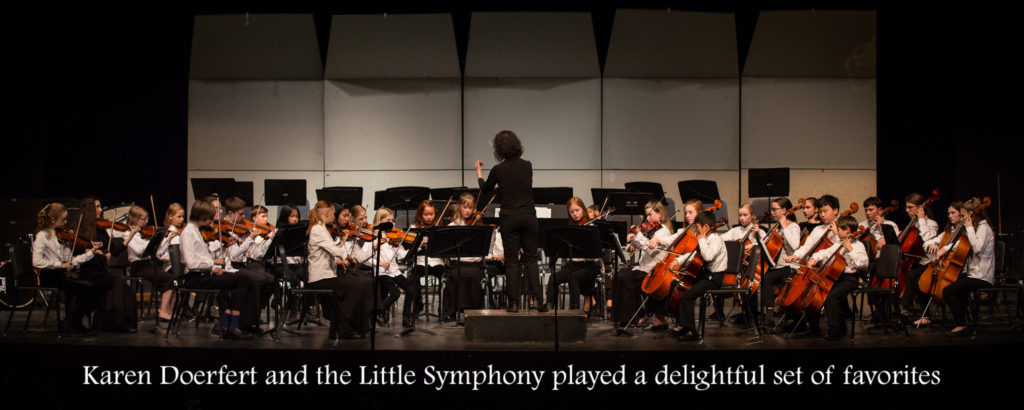 Be sure to subscribe to the google calendar below and check regularly for rehearsal and concert updates.