CONGRATULATIONS LITTLE SYMPHONY!
Great job on your December 2018 winter concert!! See calendar below for future performance dates!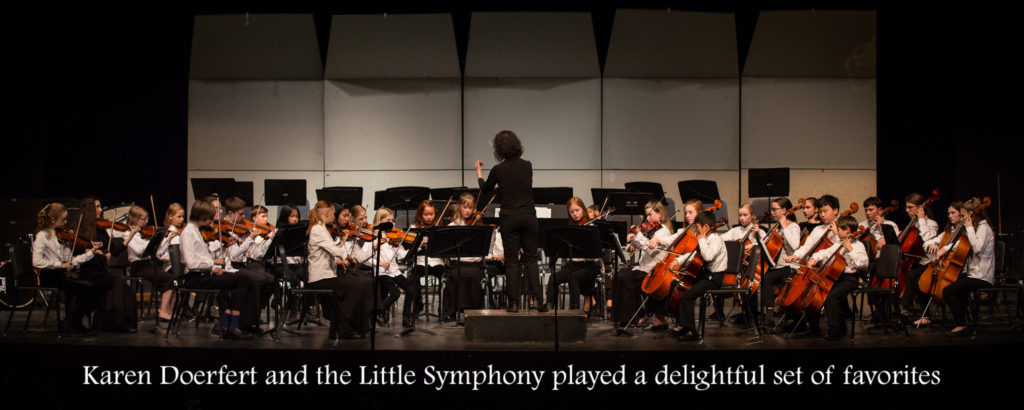 Welcome to the 2018-19 season of the Eugene-Springfield Little Symphony! Little Symphony (LS) is an auditioned string ensemble consisting of violin, viola, cello, or string bass players with at least three years of instruction.Auditions are held annually in the spring. The group is conducted by Karen Doerfert, a violinist, oboist, and director of the Roosevelt Middle School orchestra and band program. For more about Karen, please click here.
Little Symphony meets on Monday afternoons  from 4:15-5:45 pm in the Roosevelt Middle School band/orchestra room. You can park in the main lot, but entrance is at the back of the building and through the cafeteria doors. LS meets Mondays even on no-school days and federal holidays (such as Martin Luther King, Jr, Day and President's Day)., beginning Monday, Sept 24, 2018. The program fee for Little Symphony is $400 for the year, which includes 30 rehearsals, mentor sectional coaching, two outreach concerts, and two formal concerts – one with Junior Orchestra in December, and one with String Academy 2 in May.
Please Report Absences to Your Registrar: Soria Phillips-Meadow is the LS registrar and her number is 541-206-7131. She is the go-to person for students and is always available to talk to if they need anything. This is the number to call when your child will be late or absent, or for any other issues regarding rehearsals. You can leave a message and explain what's going on. Students are expected to be there 10-15 minutes early so they are seated and ready to tune at 4:15 sharp. One week notice is required for absences! There is no longer an absence request form. You must call your registrar. THANK YOU!
Be sure to subscribe to the google calendar below and check regularly for rehearsal and concert updates.