Welcome to our 87th Season!
ESYO's first online rehearsals were met with wonderful enthusiasm from conductors and students alike. Conductor Christopher Noel created an online musical experience appropriately suited for the talented members of the Junior Orchestra. Professional coaches work with smaller groups, sharing their musical knowledge with students. The fine youth musicians quickly adapted to the online platform, readily perform for each other, and inspire us all with their playing.  And it's FUN!  For more information, please call 541-484-0473, or email the registrar at joregistrar@esyorchestras.org.
CONGRATULATIONS on your 2020 Winter Concert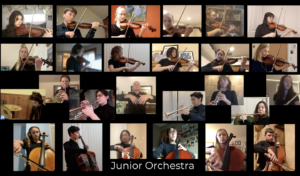 You can support all of our young musicians by sending your Year-End Gift here:  donorbox.org/esyo-joy-of-youth-music   THANK YOU!
Your conductor, Christopher Noel, is glad you are a part of this fine orchestra. He has designed a program of online rehearsals and performances, with rehearsals separated into three interactive sessions. Students work with the conductor and/or professional coaches on music for the whole orchestra, as well as individual sectional pieces. They receive more individualized and instrument-specific instruction, and learn how each part works together. There is also space for visiting artists, master classes, workshops audition training, and music history. We provide recording tips and techniques, and work toward virtual concerts that will showcase their accomplishments. Our goal is to maintain the community of the orchestra during this unusual time, and give the youth musicians a rewarding season of music-making.
MUSICAL CHAIR SPONSORSHIP: If you'd like to sponsor your musician please click HERE! The sponsor's name will appear under the student's name in the program, just like professional orchestras. It's a great way for family members and friends to show their support!
Christopher Noel  is the conductor of Junior Orchestra. He is an enthusiastic and passionate conductor and musician. His love for music, and for sharing it with young people, is easily seen as he rehearses with humor and cheer – all the while enabling students to be their best. He chooses a variety of music to both challenge and delight!
Junior Orchestra (JO) rehearsals are held Monday evenings from 6:30 to 8:30 pm. The season includes 28 rehearsals, sectional coaching, education and outreach concerts, and two formal concerts in December and May. The program fee for JO is $430 for the year, with several payment options and scholarships available.
Reporting Absences: Your registrar is Janna Hudson – all absences and tardies must be reported by a parent or guardian  by calling or texting Janna at 541-501-7279. Students are expected to arrive at rehearsal 10-15 minutes early so they are ready to begin at 6:30 sharp. One week notice is required for absences. Be sure to check the google calendar below for rehearsal and concert updates!
There are no upcoming events to display at this time.