ESYO's mission is to provide opportunities for youth to experience, appreciate, and perform orchestral music. We offer the highest-quality instruction, progressing from beginning classes to advanced orchestras. We provide need-based scholarships for fees and private lessons, and collaborate with area schools and arts organizations. ESYO continues to enrich and encourage young musicians, helping to grow the culture of music education in our community.
Don't Miss the Winter Concerts! Dec 10th and 11th

Since 1934, ESYO has provided a place for young musicians to LEARN, GROW, LEAD and PLAY!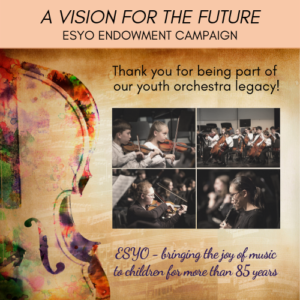 A Vision for the Future Endowment Campaign
Yes! I want to help meet the endowment match to reach $150,000 by Dec 3, 2019!