Founded in 1934, the Eugene-Springfield Youth Orchestras (ESYO) is one of the oldest non-profit organizations in the area! Our mission is to provide opportunities for youth to experience, appreciate, and perform orchestral music. We offer high quality instruction from beginning classes through advanced orchestras. Our need-based scholarships provide help with program fees and/or private lessons to any family that needs it. Collaborating with area schools and arts organizations, ESYO continues to enrich and encourage young musicians while helping to grow the culture of music education in our community. 
Auditions are open for 2020-21 – Sign Up Now!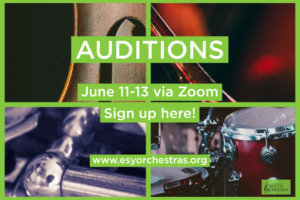 Season Finale Virtual Concert Success!
An historic moment in ESYO's 86-year history occurred May 19-20-21 when we presented our first-ever virtual concerts on Facebook Live. Featuring individual student performances from 4 different orchestras, the audiences were thrilled with the opportunity to hear these fine musicians showcase their skills in a variety of settings. The good news is that they are still available to watch on our FB Page – click here!
We are so proud of all of our orchestra members, who have shown amazing resilience and dedication to their music through this difficult and unusual season. BRAVO to ALL!
    Although we can't bring our students together to perform for you in person, we can still celebrate their accomplishments online!  Our spring concerts will showcase youth musicians from each orchestra, with videos compiled and shared on the three nights of their originally scheduled concerts. We'll hear from our conductors, honor graduating seniors, and share appreciation for all!
We also want to join the united musical family in offering solace through music to essential workers across the globe. Our Virtual Concerts will be dedicated to their tireless work and heroism. We are grateful to David and Amy Fulton, our generous Virtual Season Title Sponsors, who have given so generously to help us through this time, and far into the future! 
CLICK HERE TO WATCH THE VIRTUAL CONCERTS!
Tues. May 19 – String Academy 2 and Little Symphony
Wed. May 20 – Junior Orchestra
Thur. May 21 – Youth Symphony

No tickets required! If you would like to make a donation toward the concerts, please CLICK HERE – and thank you!
Thank you for your support during this especially difficult time. The coronavirus crisis has us working even harder to fulfill our mission. Your generosity can really help!


PLEASE CLICK HERE

to continue to give our students opportunities to learn and play from home, like in the sweet videos below. 
Since 1934, ESYO has provided a place for young musicians to LEARN, GROW, LEAD and PLAY!  Can you help continue this one-of-a-kind legacy?