REGISTER for LITTLE SYMPHONY HERE!
CONGRATULATIONS LITTLE SYMPHONY on your final concerts of the 85th Season!
Your performances were wonderful!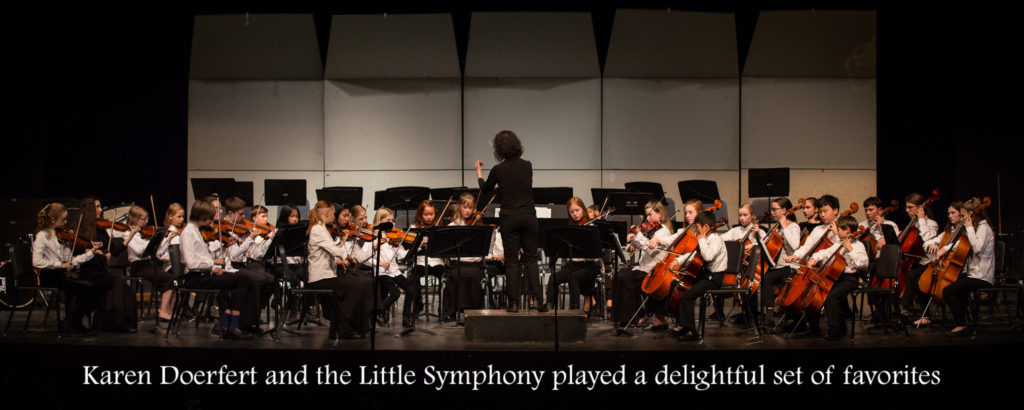 Little Symphony (LS) is an auditioned string ensemble consisting of violin, viola, cello, or string bass players with at least three years of instruction.Auditions are held annually in the spring. The group has been conducted by Karen Doerfert, a violinist, oboist, and director of the Roosevelt Middle School orchestra and band program. For more about Karen, please click here.
Little Symphony meets on Monday afternoons  from 4:15-5:45 pm on Mondays , beginning Sept 23, 2019, Location TBA. The program fee for Little Symphony is $400 for the year, which includes 28-30 rehearsals, sectional coaching, two outreach concerts, and two formal concerts – one with Junior Orchestra in December, and one with String Academy 2 in May.
Absences are reported in advance to the LS Registrar. This is the go-to person for students and is always available to talk to if they need anything. This is the number to call when your child will be late or absent, or for any other issues regarding rehearsals. You can leave a message and explain what's going on. Students are expected to be there 10-15 minutes early so they are seated and ready to tune at 4:15 sharp. One week notice is required for absences. THANK YOU!
Be sure to subscribe to the google calendar below and check regularly for rehearsal and concert updates.