David Jacobs, Eugene-Springfield Youth Symphony Conductor

We are fortunate to have such an excellent conductor to lead the Eugene-Springfield Youth Symphony. Dr. David Jacobs has many years of experience working with young musicians. He is currently the Director of Orchestral Studies at the University of Oregon, conducts the UO Symphony Orchestra, Oregon Camerata and leads the graduate program in orchestral conducting. Dr. Jacobs served as interim YS conductor through the Spring 2016 concert set, and in the 2016-17 season, his first full season with the Youth Symphony, he presented a tremendous performance of the full Symphony No. 8 by Dvorak.
Dr. Jacobs began his career as an orchestral musician and has performed with many widely respected orchestras. He earned his Doctorate of Musical Arts at the Eastman School of Music. There, he was the recipient of several conducting prizes, including the prestigious Frederick Fennell Fellowship for Advanced Conducting Study and the Walter Hagen prize for excellence in conducting. He taught at Palm Beach Atlantic University prior to moving to Oregon, and is a frequent guest conductor with fine university orchestras throughout North America. He has also authored many articles on conducting and interpretation and given lectures and masterclasses to worldwide audiences. His areas of expertise are music semiology, Russian symphonic music, and musical hermeneutics. He has conducted performances with professional orchestras on three continents and is credited on three commercially available albums. David is married and has two children (ages 10 and 8). His family enjoys living on small acreage in the Mohawk Valley where he dabbles in homesteading raising chickens, bees, fruit trees and vegetables. We are extremely excited to have someone of his caliber and enthusiasm join the ESYO family!
Dana Demant, Eugene-Springfield Junior Orchestra Conductor

Dana Demant, Junior Orchestra conductor, has been a music teacher in the Springfield School District for 25 years. For the past 15 years, he has been the Director of Instrumental Music at Springfield High School teaching band, orchestra, and percussion. For 14 of those years, he was also the Chair of the Fine Arts Department. Dana began a new teaching adventure as the instrumental music teacher at Agnes Stewart Middle School in Springfield where he teaches band and strings. He is the conductor of the Springfield Community Concert Band, which he founded 18 years ago. Dana has been happily married to Lauren Lindstrom for 27 years and has two fabulous daughters, Jordan and Zoe who are just plain hilarious!
Karen Doerfert, Eugene-Springfield Little Symphony Conductor

Karen Doerfert is the band and orchestra director at Roosevelt Middle School in Eugene. A graduate of South Eugene High School, Karen is an ESYO alumni, having participated in the Junior Orchestra and Youth Symphony programs. Karen studied music at the University of Northern Colorado, where she received her Bachelors of Music Education degree with a double emphasis in violin and oboe. Prior to her current teaching position, Karen taught band and orchestra in Albuquerque, New Mexico. Karen has performed with ensembles such as the Albuquerque Philharmonic Orchestra, Cheyenne Symphony Orchestra, Chamber Music Cooperative of the South West, Empire Strings, Giovanni String Quartet, and the Eugene Symphony Orchestra. Karen is excited to be back in her hometown of Eugene, and she is thrilled to join the ESYO family!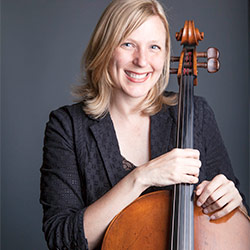 Lauralie Kallinen, String Academy II Conductor, String Academy 1 Instructor

Lauralie Kallinen earned her Bachelor's of Music in cello performance at Lawrence University and her Master of Music in cello performance and music education at the University of Oregon. Lauralie has taught string classes in the Eugene Public Schools and the Waldorf School for several years and is a cello teacher for the Suzuki Strings Program. Lauralie also has a large private studio of cello students.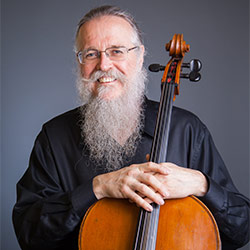 Dale Bradley, String Academy 1 Instructor

Dale Bradley, cellist, composer and guitarist, is a Springfield native and a longtime member of the Eugene Symphony and the Oregon Mozart Players. A graduate of the University of Oregon School of Music, he studied cello with Robert Hladky and composition with Hal Owen. He started playing cello in the 4th grade and also began composing at this time, filling up small notebooks purchased from the local music store with musical ideas. Dale's compositions & arrangements have been played live in various venues on the west coast, from local retirement centers to the Los Angeles Philharmonic. Dale's teaching activities include beginning String Academy classes in local elementary schools, various summer camps, and a private studio where he teaches cello, bass & guitar. Dale has played live and recorded with a wide variety of musicians. He continues to assist others in their recording projects, often arranging & producing in his home studio. Dale's own CDs include "Solo," "The Christmas Cello," and "Generations."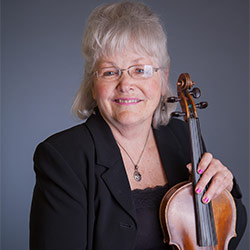 Ruth Root, String Academy 1 Instructor

Ruth Root began violin lessons in the 4th grade in the Long Beach Public Schools. She was concertmaster of her high school orchestra and also performed in the Long Beach All-City Orchestra and All-Southern California Orchestra. In 1967, Ruth graduated from Pacific Christian College and went off to start a family. In 1988 she received her teaching certificate from the University of Oregon School of Music and began teaching classroom music in Cottage Grove. In the 90's Ruth taught beginning strings in more than nine Eugene-area elementary and middle schools. Ruth joined up with ESYO in 1996 as the director of the Encore Strings (now String Academy 2). Ruth has performed in many pit orchestras for musical theater and also founded and performed in both the Dover and Degani String Quartets. She currently performs with Riverside Chamber Symphony.
Gale Fiszman, String Academy 1 Instructor